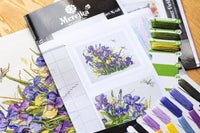 Why Merejka?
Our cross stitch kits contain only high quality materials: DMC mouline, JohnJames needles and Zweigart canvas.
Merejka cooperates with contemporary artists.
Our designs are high detalized, but we don't overuse number of colours. The maximum count of colours is up to 40.
Every design is stitched before release. Our designers and stitchers work together to achieve convenient pattern, we don't tolerate pixel confetti in schemas.
The schema has colour symbols. There are two versions of schema with and without backstitches in each kit.
Popular questions:
I want to buy your pattern only.
Our company sells cross stitch kits only, which contain all necessary for completing project.
Please provide all DMC numbers of mentioned design.
Our business has negative impact of piracy. We try to minimise it. One of our solution is hiding threads colour numbers. If you run out some colours, we could tell you exactly numbers, but not all of them.
Where I could buy your cross stitch kits?
You could find our partners on this page.
I can't buy new design from your web-site. Is it sold out? When it will be available?
We sell them firstly to our partners. Please ask them about availability.
What type of shipping company do you use? Is shipping free?
We send by the post. The shipping is free for order more than 100 euro.
Our Instagram page: